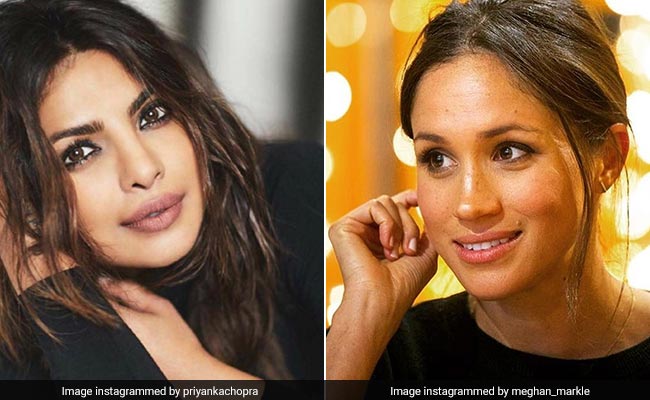 Actress Priyanka Chopra, who is good friends with soon bride-to-be Meghan Markle, is rumoured to be the bridesmaid at her wedding with Prince Harry. Priyanka spoke about it in her latest interview with
Harper's Bazaar magazine.
"If you see me there, you'll know," Priyanka said. Though we hope to see Priyanka Chopra in Meghan's bridal party, there's a big chance we won't, simply due to royal tradition. "Most royal brides do not have adult bridesmaids," royalty expert Marlene Koenig told
Town & Country
. "It would be unusual for a royal bride to have a woman in her late 30s as a maid or matron of honour," she added.
Priyanka also said that she is excited for Markle and Prince Harry's royal wedding and also that Meghan would bring change in the world as a member of the royal family. "I don't think anybody else would be able to do it the way she will. She's just right for it. She's an icon, truly, that girls can look up to, that women can look up to. She's normal, she's sweet, she's nice, she thinks about the world, wants to change it and this was even before any of this happened," Priyanka told the magazine.
Meghan Markle is best known for her starring role in American series Suits while Priyanka headlines the very popular TV show Quantico - the two are great friends and are often seen chilling and hanging out together in New York and California. Earlier, Priyanka congratulated Meghan and Prince Harry with a beautiful message: "Congratulations to my girl Meghan Markle and Prince Harry!! I'm so happy for you Meg! You deserve the best always... keep smiling that infectious smile." Adorable, isn't it?
In November, 2017, this how the big fat wedding announcement was made: "His Royal Highness Prince Henry of Wales and Ms. Meghan Markle are engaged to be married." Following which the newly engaged royal duo made an appearance for a photocall at Kensington Palace's Sunken Garden. As they walked around hand-in-hand and posed for the cameras, it was not much difficult to spot that sparkling engagement ring on Ms Markle's hand.
Meghan Markle and Prince Harry will get married on May 19.
Priyanka Chopra is currently shooting the third season of Quantico. She is also awaiting the release of two more Hollywood films - Isn't It Romantic?and A Kid Like Jake
. She's yet to announce her next Bollywood project
.