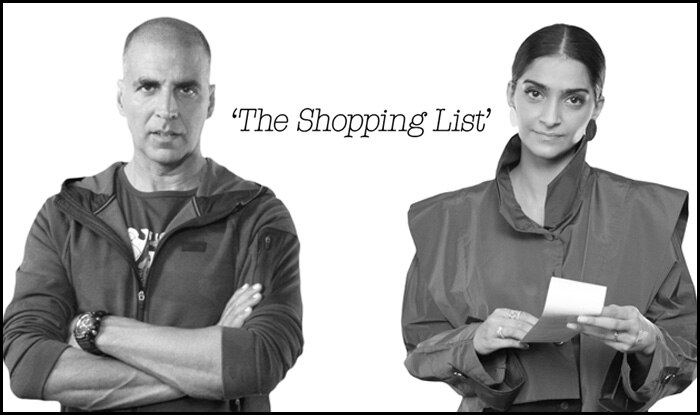 If the magnitude of the problem of how women in India deal with periods hasn't hit you as yet, it will hit you now and it will hit you hard. Padman co-stars Akshay Kumar and Sonam Kapoor along with their team have been trying to make their film bigger than just that, they want it to become a movement and help change and save lives. Of women who are unaware about sanitary napkins and its use. Of women whose health is compromised due to either lack of resources to buy a pad or since they do not know how using a sanitary napkin can be beneficial for them.
To take another step ahead towards this cause, Akshay and Sonam have come together for a video called The Shopping List. In this, on one hand you have Sonam talking about the items on her shopping list – which includes things like hay, ash, sawdust, old and used bits of cloth, paper, discarded thermocol and more that women in villages or from low income groups use during their period. Akshay then talks about the item on his shopping list – a sanitary pad. The two highlight the only distinction between the shopping lists of the women who don't know or cannot afford a pad and those who can.
You can sense the discomfort, disgust and pain in Sonam's expression when she is reading out the items in her shopping list and you will feel the same emotions when you see this video. Check it out for yourself.
While as actors, Akshay and Sonam do want you to go to the theatres and watch Padman, they also have a way to make you a part of their campaign. The video has details about the NGO which you can reach out to and donate as low as Rs 400 to provide a woman with sanitary pads quota for an entire year. It is nice to see how the stars are promoting the film in a way that will also create awareness about the cause of menstrual hygiene and health and banish myths and taboos around women's period. High time the mindsets in our society changed, PERIOD!