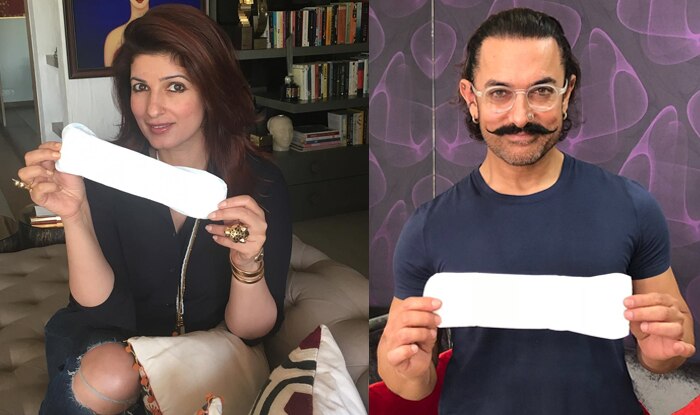 Padman a film that talks about women's period, menstrual hygiene, awareness and availability of sanitary napkins to all girls and women and more. Novel and noble idea but will this Akshay Kumar, Sonam Kapoor, Radhika Apte film produced by Twinkle Khanna be able to change the Indian mindset that says talking about period or pads is a taboo? In her interviews to Indian and International media, Twinkle has been harping on the fact of how their February 9 release is more than just a film. She and her team have been hoping that Padman becomes a movement and makes people realise that there is nothing shameful about periods or talking about it.
And to take that step towards making it larger than a film on 70 mm screen, Twinkle Khanna threw a Padman Challenge to all out there, asking people to post a picture holding a pad with a message that reads, "Yes, that's a Pad in my hand & there's nothing to be ashamed about. It's natural! Period. #PadmanChallenge." While we were hoping that more and more people join her campaign, we saw Aamir Khan become the first celebrity to take the challenge.
The superstar posted a picture of him holding a pad with the same message and this time challenged Amitabh Bachchan, Shah Rukh Khan and Salman Khan to do the same. If these superstars do follow, we are sure the Padman Challenge will grow in magnitude, become a huge success and achieve what it aims to. Awareness, openness and acceptability of the fact that a woman's period is natural and there is no shame in talking about it. Here's hoping that no woman will have to whisper and ask for a pad when she goes out to buy a packet at the chemists.
— Twinkle Khanna (@mrsfunnybones) February 2, 2018
— Aamir Khan (@aamir_khan) February 2, 2018
— Akshay Kumar (@akshaykumar) February 2, 2018
— Bhushan Khiladi (@Bhushanadhau1) February 2, 2018